Application Deadline

: 31 December 2021

Duration of employment

: 4 years

Extent of Employment

: 30.0 hours/week
The announcement is made for four years, whereby the employment relationship is initially limited to 1.5 years and is automatically extended to a total of four years, unless the employer submits a declaration of non-renewal after a maximum of 12 months.
Job grading in accordance with collective bargaining agreement: §48 VwGr. B1 Grundstufe (praedoc) with relevant work experience determining the assignment to a particular salary.
We expect from all applicants to have
Deep interest in and enthusiasm for scientific work;
High level of motivation and commitment to successfully complete his/her PhD studies within the anticipated time frame;
Strong interest to publish in peer-reviewed journals (cumulative dissertation)
Critical and analytical mind; Collaborative, team-minded and pro-active attitude
Good computer and/or wet bench work skills
Asset: experience in writing scientific publications
We expect from all successful candidates
to participate in research, teaching and administration, including:
Participation in research projects/research studies;
Participation in publications/academic articles/presentations;

To present publicly the planned thesis project and to sign a doctoral thesis agreement within 6-18 months;

Participation in teaching and independent teaching of courses as defined by the collective agreement;
Supervision of students;
Involvement in the organisation of meetings, conferences, symposiums;
Involvement in the department administration as well as in teaching and research administration.
Online application
In order to apply via the Apply@PhaNuSpo recruitment tool, register yourself at the University of Vienna and open an u:account first. With your u:account user-ID you can apply via this platform.
Applications by email or other means are not considered for review.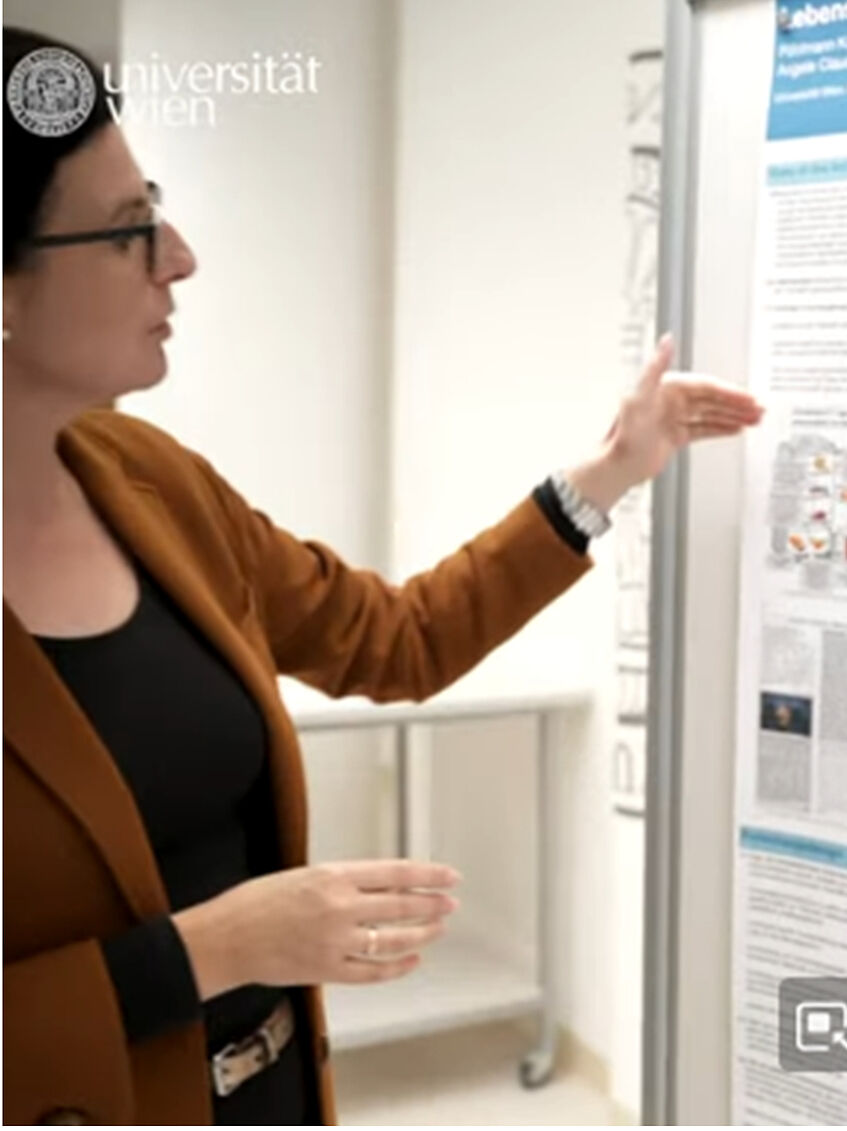 #1: Supervisor: Ass.-Prof. Dr. paed. habil. Claudia Angele
Design innovativer Lernsettings zur Förderung von Urteilskompetenz
Profil und Voraussetzungen
Abgeschlossenes Diplom-/Masterstudium im Lehramt des Unterrichtsfaches Haushaltsökonomie und Ernährung mit überdurchschnittlichem Ergebnis
Unterrichtserfahrung in der Sekundarstufe 1 oder 2 im Fach HÖE bzw. Ernährung und Haushalt erwünscht
Exzellente schriftsprachliche und verbal-kommunikative Fähigkeiten
Exzellentes schriftliches und gesprochenes Deutsch sowie Englisch
IT-Nutzer*innen-Kenntnisse
Fähigkeit zur Arbeit im Team und zur Kommunikation mit Schulen und Schuladministration sowie organisatorisches Geschick
Kenntnisse und Fertigkeiten in fachdidaktisch orientierter empirischer Forschung, vorzugsweise mit qualitativen Methoden; wünschenswert sind Erfahrungen mit verschiedenen Formen der Transkription, der Videographie und mit Programmen qualitativer Datenanalyse
Aufgaben
Der/die erfolgreiche Kandidat*in bringt sich in die Forschungs-, Entwicklungs- und Lehraufgaben der Fachdidaktik Ernährung ein.
Mitarbeit im Forschungsprojekt

"Sich trotz Komplexität ein Urteil bilden: Design innovativer Lernsettings zur Förderung wissensbasierter Urteilskompetenz im Kontext von Nutrition, Health und Consumer Literacy

"
Durchführung von Lehrveranstaltungen und Prüfungen des Unterrichtsfaches Haushaltsökonomie (soweit als im Kollektivvertrag vorgesehen)
Betreuung Studierender
Beschreibung
Das Department für Ernährungswissenschaften ist mit dem Arbeitsbereich Fachdidaktik Ernährung das einzige seiner Art in Österreich. Der Arbeitsbereich Fachdidaktik Ernährung hat seinen Forschungsschwerpunkt im Bereich der Erforschung der Grundlagen des Lehrens und Lernens in den Lernfeldern Ernährung, Gesundheit und Haushaltsökonomie sowie in der Entwicklungsforschung im Hinblick auf die Entwicklung innovativer zielgruppenspezifischer Lernsettings in den benannten Lernfeldern. Er bietet ein innovatives Forschungsumfeld in einem internationalen Kontext, das auf den weiteren Ausbau der jungen Wissenschaftsdisziplin der Fachdidaktik Ernährung fokussiert ist.
Die Position impliziert Aufgaben im Bereich der fachdidaktischen, empirisch orientierten Forschung und Entwicklung in der Fachdidaktik Ernährung und Haushaltsökonomie. Ein zentraler, international relevanter Forschungsschwerpunkt liegt derzeit im Bereich fachdidaktischer Fragen des Erwerbs wissensbasierter Urteilskompetenz durch Ernährungs-, Gesundheits- und Verbraucher*innenbildung, auch unter interdisziplinärer Perspektive, und vor diesem Hintergrund in der Modellierung von Ansätzen von Urteilskompetenz für die Lernfelder Ernährung, Gesundheit und Konsum sowie im Design innovativer Lernsettings zur Förderung Lernender verschiedener Altersgruppen.
Kontakt: Ass.-Prof. Dr. paed. habil. Claudia Maria Angele
Weitere Informationen: Fachdidaktik der Ernährung am Department für Ernährungswissenschaften der Universität Wien
Apply@PhaNuSpo -> choose #1: Prof. Claudia Angele - Didactics of Nutritional Sciences (zumindest Letter of Motivation and CV auf Deutsch)
#2: Supervisor: Ass.-Prof. Mag. Hans Kainz, MSc PhD
Predicting bone growth to avoid femoral deformities
Your profile
MSc in Engineering, Human Movement Science, Sport Science or a similar area
Programming skills in MATLAB and/or Python
Proficient in written and oral English
Experience with 3D gait analysis, finite element analysis and/or musculoskeletal simulations is an advantage
Your tasks
Experimental data collection, i.e. motion capture data and magnetic resonance images, from typically developing children and children with cerebral palsy
Development of an efficient mechanobiological bone growth workflow based on musculoskeletal and finite element simulations
Validating the mechanobiological growth simulations
Present research results at international conferences and publish scientific papers in peer-reviewed journals
Description
Many children with cerebral palsy develop bony deformities during growth due to pathological loading of the skeleton. Corrective osteotomies, e.g. de-rotation surgeries, are used to correct excessive deformities. The mechano-responsive of the pediatric skeleton provides an exciting opportunity to correct the loading environment at an early stage to avoid the development of bony deformities.
The PhD student will use multi-scale simulations based on neuro-musculoskeletal and finite element models to develop a workflow to predict femoral growth trends. To validate the mechanobiological growth predictions the PhD student will compare the simulation results with the actual change in femoral geometry obtained from magnetic resonance images collected on two occasions. This PhD will increase our fundamental insights on bone growth and the occurrence of bony deformities.
Contact: Ass.-Prof. Hans Kainz, PhD
Information
Apply@PhaNuSpo -> choose #2: Prof. Hans Kainz - Sport Science
#3: Supervisor: Ass.-Prof. Mag. Dr. Verena Pichler
Work on 3D cell culture methodology
Your profile
MSc in chemistry, pharmacy, tissue engineering or equivalent
Strong background and interest in cell culture, tissue engineering and drug development
Knowledge in analytical and synthetic organic chemistry is a necessity (excellent knowledgeof theory and practical workflow).
Skills in data analysis and reporting.
Fluent in English and profound in scientific writing.
Excellent teamwork and communication skills, independent, critical thinking and initiative.
Self-motivating and enthusiastic about interdisciplinary work
Desirable qualifications are

Teaching experience in synthetic organic chemistry laboratory
Your tasks
Work on 3D cell culture methodology and investigation in the progress towards OI detection, remote access and automatisation
Participation in highly interdisciplinary research projects
To establish, evaluate and validate a dynamic 3D cell culture method, which similarly to chromatographic methods, consists of a biological stationary phase and a mobile aqueous phase
Participation in the preparation of publications, academic articles and presentations
Description
The PhD candidate will work on a dynamic 3D cell culture methodology and investigate the progress towards OI detection, remote access and automatisation. During the project a set of fluorescently-labelled compounds will be synthesized and applied in the this system. Imaging data processing and kinetic modelling techniques will be applied to further advance the dynamic 3D cell culture.
The research group of Ass.-Prof. Dr Verena Pichler is investigating novel 3D cell culture and tissue engineering technologies for drug screening and evaluation purposes. Together with our industry partner DOCMedikus GmbH and academic cooperation partners University of Applied Sciences Technikum Wien and Medical University of Vienna, we want to further establish, evaluate and validate a dynamic 3D cell culture method, which similarly to chromatographic methods, consists of a biological stationary phase and a mobile aqueous phase. This set up allows transport and distribution of labelled pharmaceuticals to the embedded cells and therefore to assess administration, distribution, metabolism and excretion of potential novel drug candidates in high throughput mode.
Contact: Ass.-Prof. Mag. Dr. Verena Pichler
Information: Pichler Research Group Neurochemistry of the Division of Pharmaceutical Chemistry at the Department of Pharmaceutical Sciences
Apply@PhaNuSpo -> choose #3: Prof. Verena Pichler - Pharmaceutical Sciences
Gender equality, diversity and non-discrimination
The University pursues a non-discriminatory employment policy and values equal opportunities, as well as diversity (http://diversity.univie.ac.at/). The University lays special emphasis on increasing the number of women in senior and in academic positions. Given equal qualifications, preference will be given to female applicants.