Management team
of the VDS of Pharmaceutical, Nutritional and Sport Sciences of the Faculty of Life Sciences and the Centre for Sport Science and University Sports.
The coordinator is the first point of contact for doctoral/PhD students and PI members. Tasks and responsibilities include administrative or other questions related to the doctoral programmes and management of all aspects related to PhaNuSpo activities, such as organisation of events/activities, monitoring, internal and external communication, budget management, organisation of PjD advertisements and selection procedures, drafting reports to the SAB and Rectorate, and coordination with other administrative units within the university.
Phone: +43-1-4277-50030
Office: 1090 Vienna, Josef-Holaubek-Platz 2, UZA II, Room 2C 323
Personal consultation hours: Monday-Thursday 10:00-16:00, preferably make an appointment in advance
Dipl.-Ing. Dr. Isolde Prommer
Executive Manager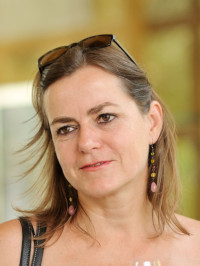 Biography: Isolde completed her Master and PhD studies in Landscape Ecology and Regional Planning at the University of Natural Resources and Life Sciences (BOKU), Vienna. She worked as a research scholar and project manager at the International Institute for Applied Systems Analysis (IIASA) (1997-2012). Her research focused on population projections, data validation, modelling of interactions between population, development and environment, and population and climate change. Beside researching, she managed mainly projects funded by the European Commission's FP-6 and FP-7 framework programmes. After 15 years at IIASA, she moved to the University of Vienna and coordinated the research platform "Human Rights in the European Context", which was completed in mid-2014. Isolde continued to work with the renowned human rights experts Prof. Manfred Nowak and Prof. Hannes Tretter at the Ludwig Boltzmann Institute for Human Rights (2014-2020) and the Human Rights Research Center at the University of Vienna (2014-2018). For both organisations, she worked as a project developer and programme manager.
Entry/Visa and residence permit
Submission of thesis, review, defense